NICKY GOES BACK TO HER ROOTS IN NOTTINGHAM
Tuesday August 26, 2014 by Nicky Coe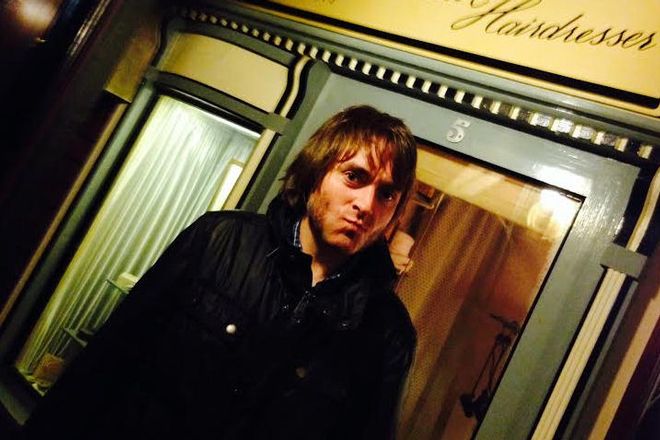 scott...and that hair!
Bank holiday time again, and so the perfect opportunity to have a weekend back in Nottingham...and fit in a couple of client visits to the apartments at the same time!
As I was born and raised in the area it's a place I know well, although on this visit we decided to spend a little more time on the historic side, which I haven't been around since I was a kid.
The trip started well at St Pancras Starbucks (other coffee shops are available) where they were playing the California CD thus: The Eagles, Beach Boys, Crosby Stills and Nash - good tunes for heading to the East Midlands on a grey Friday. (showing your age there Nicky - who are these people? - Ed)
The journey was very easy taking less than 2 hours in all.  
I had 2 appointments in Nottingham with a couple of clients looking for a home from home for some of their American colleagues, and so we started at Premier Apartments Nottingham which is in a great location for Nottingham train station and Broadmarsh Shopping Centre and Bus station. It's also right next door to the Bowling Alley, which is a result if you like Bowling. (No - Ed)
Katie the manager showed us around the apartments, which in both the 1 bedroom and 2 bedroom options had plenty of space. Both had nice lounge areas with an open plan kitchen, and were fully equipped with everything needed to move straight in. The bedroom was spacious and airy with the main bathroom off the hallway, and again a good size. The 2 bedroom apartments have very spacious en-suites and ample storage space. There is also parking to the side of the apartments for a small additional charge.

On to Saco Nottingham (which would also be home for the night), we were met by Majella the manager. It's in a great location opposite the very well heeled Park Estate, full of beautiful period properties and has always reminded me a little of Hampstead in London. We viewed the 2 bedroom, which was in a great spot with a nice outlook from the bedrooms, and it also had a bathroom each for the bedrooms which I hadn't seen before. The lounge was bright and airy with the kitchen just off it, and again, was open plan. I really liked the fact that they put a pint of milk in the fridge for when you arrived as well as some washing up liquid, teas and coffees/nibbles and mini cereals, with some nice L'Occitane products in the bathroom to start your stay off on a good note. Parking is available in the underground car park below the apartments.
So I got the keys to my one bedroom apartment and I have to say...it was lovely. Very spacious, with a full kitchen off the lounge containing a washer dryer, dishwasher, microwave oven and a hob. The bedroom also had plenty of storage, as well as a TV and a dressing table. Even better, the bed was super comfy and so were the pillows, which can be hard to get right.
After a quick drink and a watch of the truly ghastly Judge Rinder (He IS awful to be fair - Ed)...I went out to have a look around before meeting my other half at the station.
As I said, I know Nottingham pretty well but have never really spent much time in the castle area and so, as luck would have it, Saco is only 10 minutes away! There are also some very good historic pubs in the area!
Nottingham Market Square had been transformed into a summer island with sand, deck chairs, pirate ship and fair rides, brilliant for the kids.  
There are 2 shopping centres, Broadmarsh and Victoria, and between the two there are masses of shops, cafés, pubs and restaurants. I used to spend a lot of time in the Hockley area and I ventured up there again while wandering around. It's located straight up from the Market Square, and seemed pretty much the same (a little like Brighton or Shoreditch with its mix of vintage clothes shops, book shops, cafés and bars). The huge tourist information centre is in the square, so if you're new to the area I would advise popping in to get loaded up with booklets and leaflets for the many events on around the town.
As it was, my boyfriend Scott and I decided to head over to the Trip to Jerusalem pub near to the castle, which is reputedly the oldest pub in England, and built in to the rock at the base of the castle.  It dates back to the 10th century and does a very tasty line in beers and food. I had a slightly surreal moment while ordering the drinks, when as well as standing next to a very creepy suit of armour, a medieval peasant (although a good looking one) ordered a pint after a hard day at one of "ye olde attractions" in town! Clearly liked his job a bit too much me thinks...
Next morning we spent in town walking off the cider head (pot, kettle, black? - Ed) from too much medieval brew. I have to say that after spending many breaks in hotels there's really nothing nicer than having your own kitchen to make some breakfast in and properly relax!
Nottingham Castle is definitely worth a visit and we went around it and its gardens. It's largely dedicated to the wars with 2 floors of displays, paintings and footage. With the ticket you also get free entry to the Brewhouse Museum (The Museum of Nottingham Life) which is next to the Trip to Jerusalem and is basically rooms recreated as they would have been in the past. I got a particularly nice photo of Scott outside the Victorian ladies hairdressers!
In short, Nottingham is a great city with theatres, tours, plenty of shopping and events and more stately homes than you could shake a stick at. It has great nightlife, friendly people and is definitely worth exploring if you're in the area for either business or a jolly. I would thoroughly recommend a stay at either of the apartments I viewed as they were both great value for money.
Find me on LinkedIn and see all the pictures on Pinterest
---
Share this post
---