A Day Out At The Brilliant Bletchley Park
Friday August 22, 2014 by Alex Wood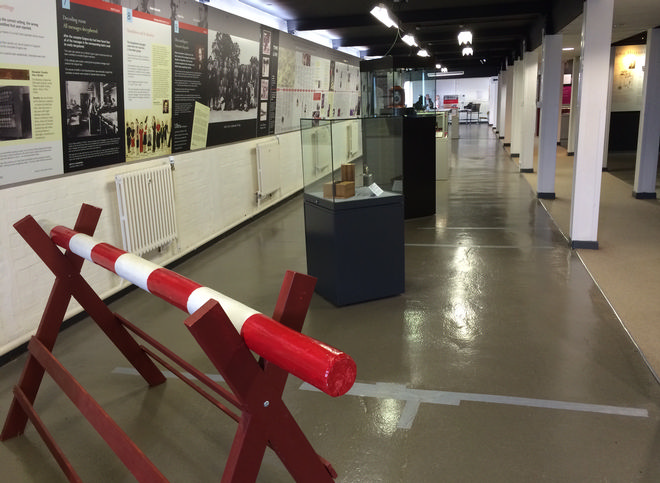 one of the wonders of the world -  a must for all
Has anyone NOT heard of Bletchley Park?
Well, it is without doubt one of the most amazing places in Britain, and had it not been for this unassuming location the world we know today would certainly be a very different place. For those of you who really still don't know Bletchley Park is home the collection of buildings that housed the British codebreaking efforts in the second World War and where they unlocked the secrets of the Enigma machine to read the German codes. In the recently dramatized BBC series,The Bletchley Circle, we were given a tantalising glimpse at the type of intriguing characters that may have inhabited that shadowy and secretive world back then.
The real life heroes however, were even more extraordinary. And hid their own secrets. 
The much-anticipated biopic of one of the most gifted, Alan Turing, will open the 58th BFI London Film Festival on 8 October with Turing played by Benedict Cummerbatch. Called "The Imitation Game", the film highlights the part played by Alan Turing and his team at Bletchley Park, during the darkest days of the War.
Visiting Bletchley today, 60 years on from those heroics, is a moving and sobering experience. Coming off at junction 13 of the M1 motorway, the village of Bletchley is just below the new town of Milton Keynes, and it's well signed so you shouldn't get lost. On arrival you'll be directed to the large car park by one of the very efficient and knowlegable volunteers who are the lifeblood of this historic place. From there its only a short walk to the ticket office where you can buy an Annual Season Ticket (valid for as many visits as you want for 1 year), which includes complimentary use of their excellent Multimedia Guide. Its just £15 for adults, less for kids, and free for under 12's. Superb value.
Once you've embarked on the tour you'll be lost in a fascinating world of spies, codes and breakers, encryption and plots, and all of their dramatic consequences, both terrible and magnificent. Far and away the most interesting aspect of all this though, is the men behind the maths. For diagnosing the functioning of the impossibly complex German Tunny machine for example, mild mannered Bill Tutte was made an Officer of the Order of Canada when he moved there after the war. During his induction, this remarkable achievement was described as one of the greatest intellectual feats of World War Two.
Another amazing (and equally unassuming) man working at Bletchley was former Post Office engineer Tommy Flowers who built Colossus, the world's first programmable electronic computer, using his own funds. This pivotal machine which was instrumental in shortening the war, was shunned by the powers that be, as unnecessary. Flowers, not a man to be overwhelmed by anything, noted in his diary at the time: "Colossus did its first job. Car broke down on way home." This exhibition is packed with amazing information, there are great interactive exhibits, fascinating memorabilia (including several coveted Enigma machines), and not only that, but you are in the very spaces where these world changing events took place. It's a place to fire the imagination and be astounded at the ability of the human mind...a truly worthwhile experience.
The climax of the incredible wartime effort by the men and women of Bletchley was when Alan Turing and his team combined to hack into Hitler's personal super-code machine (not Enigma but an even tougher system, which he called his 'secrets writer') and the information gleaned effectively turned the Battle of Kursk, powered the D-day landings and orchestrated a very premature end to the conflict in Europe. Historians have argued that their combined work probably shortened the war by at least two years, thus saving tens of thousands of lives...an achievement that should have gained the very highest honours possible. However their vital skills however and many incredible individual achievements were never officially recognized due to the official secrets act. In particular Alan Turing was for a very long time denied the hero status that he deserved.
And once you've completed the tour, its lovely to stroll over to the Mansion House, and past the lake which is an ideal spot for a picnic on a sunny day. On a colder day there's also a great quirky little canteen for a spot of lunch served by really friendly staff.
The only downside that I can think of is that one of the former stars of Bletchley, Colossus, (Tommy Flowers' computer which helped decipher the Lorenz-encrypted messages between Hitler and his generals during World War II) is now housed in the nearby National Museum of Computing (TNMOC). This means that you have to go over there and buy another separate £5 ticket to see it. The upside is that this Museum is almost as good as Bletchley but its good to be forewarned that this important machine lives elsewhere. If you have the time, definitely do both...you'll come away awed and inspired by this amazing place.
See all our pictures of the day out on Pinterest
Bletchley Park is just one of the lesser known tourist attractions around the UK that is well worth a visit.  If we've whetted your apetite then Visit Britain has some more suggestions for attractions you didn't know existed! Have you unearthed your own secret spot to visit? - let me know by nominating your favorite on Facebook or Twitter (#PASholidays) and I'll put together all of the favorites throughout the year in a round up review post!
So if you're relocating to Milton Keynes or just visiting for a holiday then do make time for a visit to this historic location. Prestige Apartments has wide range of serviced apartments and vacation rentals in Milton Keynes so if you've been inspired to plan a stay in the area we're sure to have the perfect apartment for you.  Just get in touch with our friendly sales team and they'll help you to choose your perfect family friendly apartment.
Tel: 020 7704 6514 or email: sales@prestigeapartments.co.uk
---
Share this post
---