THE MIGHTY OPEN AIR THEATRE!
Wednesday August 20, 2014 by Katalin Foldesi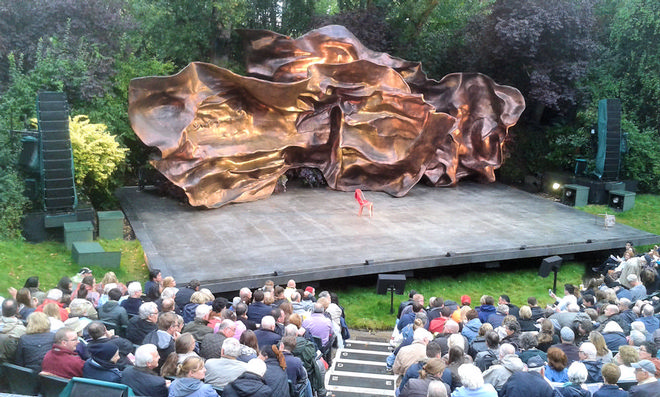 our maddest ever blog...and  the sweetest
The adventure of the five prestigious hobbits in the forest of the fairies...
Once upon a time our chief hobbit Alex the Wood invited our company to share an adventure with her in the misty forest of the fairies called The Mighty Open Air Theatre in Regent's Park. She wanted to seek out the great ball of the famous fairy folk called Porgy and Bess.
The weather however, was just terrible that day. 
We got absolutely soaked in the afternoon storms, and it appeared not to be the very best of starts for a night out in the wilderness, but "hobbits are not made of sugar" we thought, and followed our chief's stroll towards the mysterious place. Our brave company included Chief Alex, Daisy the Fair, Nicky the Wise, Alex G the Cheeky and myself Kata the Round.
After following the secret passage of the hedgehogs we found the well guarded fairy gate covered by lush bushes. We put on our colourful fairy capes woven form the finest moonshine and plastic to disguise us from any curious eyes. The guards, fooled by our mischief let us into the enchanted forest which was full of beautiful, twinkling fairy lights. King Oberon and Queen Titania were hiding but their busy company served us with nectar and all of the earthly goods they could conjure, so we stuffed our empty little stomachs with burgers and wine of the best magical type. There was a drizzle of rain to refresh us at first but then all the clouds swam away in the ocean of the evening sky.
We followed the fairies into the great auditorium and sat amongst them, and fortunately they didn't suspect at all that we were intruders. Suddenly all of the lights dimmed and the great ball started.
First came Queen Titania as Bess and she started to sing the heart warming tunes of Master Gershwin. She was then accompanied by the choir and the hale King Oberon as Porgy. Our little feet started to tap to the rhythm of the enchanted music and our faces began to glow due the mystical beauty of the fairy chanting. 
For some considerable time we lost ourselves in laughing with joy and crying with sorrow at the wonderful, moving tale of feisty Bess and brave Porgy.
And when the ball ended we felt light like real fairies, not just disguised ones. We went away humming the tunes of Master Gershwin, uplifted and almost flying as we followed the night bugs out of the forest. We all agreed that it had been an adventure worthy of sharing and we all swore an oath to come back to this magical fairyland once again.
Follow me on twitter @Katalinpas and see all the hobit pics on pinterest
---
Share this post
---