Serviced Apartments - The Hotel Alternative?
Friday August 8, 2014 by Alex Wood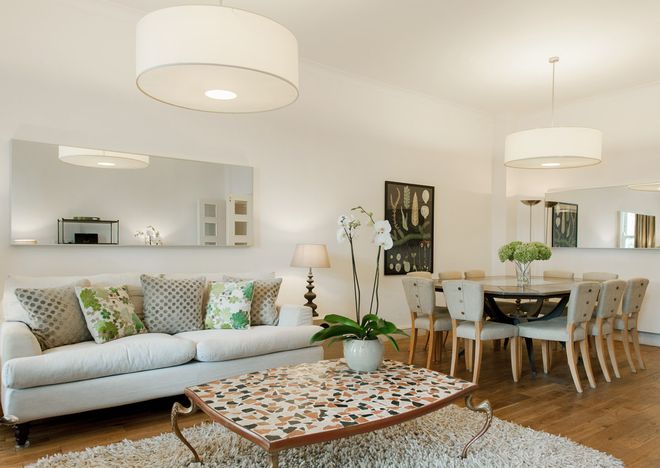 europa  house is perfect for all the family
So summertime has arrived and our thoughts have turned to family holidays.
Hotels are great and we love them, but when you're travelling with families they're not always the best option. Why not consider the possibility of renting a serviced apartment instead, for a family friendly option that'll keep everyone happy!
Here are a few considerations that you may want to bring into account before making your decision:
1. BUDGET
The price of a two bedroom apartment is usually going to be around about the same as two equivalent standard hotel rooms, but (and it's a big but!) you ALSO get a living room AND kitchen included in that price.
2. CATERING
You almost certainly aren't planning to spend all of your valuable vacation time cooking, but for families a full kitchen is an absolute life saver. Stock up the fridge with their favourite foods and snacks and you'll have happy kids. Travel-weary toddlers may be too overwhelmed to test that fancy new dish at the hotel restaurant but if you can bring out the old favourites to give them a taste of home, you'll be in for a much happier stay.
3. CONVENIENCE
Although hotels can offer adjoining rooms, it's often quite an expensive option and if the worst happens and you have two separate rooms then often mum and dad will have to separate as well! In a serviced apartment you're all going to be together in the same flat, and therefore come bedtime you can pack the kids off to their room while you carry on socialising in the luxury of your own living room.
4. SPACE
Apartments will usually provide double the space of a similarly priced hotel room which is great for families. Toddlers will have room to run around, teenagers can go for a 'sulk' in their bedroom and parents can sit down to watch their favourite movie, have a glass of wine, or dish up a family meal around the dining table.
5. TECHNOLOGY
Whilst the internet is seen as a priority for most of us, in business travel it's an essential, and as serviced apartments started out aimed at this market most include internet connection for free. So, if you're a big kid like me, you simply have to log on as soon as you arrive in order to pick up emails, or (again, like me or my nieces and nephews) you simply have do some social media bragging about your amazing holiday, then serviced apartments make ideal vacation rentals
Prestige Apartments has a wide range of serviced apartments and vacation rentals on offer throughout the UK. We'll have something to suit all budgets and group sizes so why not consider a staycation in a UK serviced apartment this year. Just get in touch with our friendly sales team and they'll help you to choose your perfect family friendly apartment.
Tel: 020 7704 6514 or email: sales@prestigeapartments.co.uk
Here are some ideas to tempt you towards serviced apartments that offer just that little bit extra for families:
Voted Top Serviced Apartment Provider by Frommer's - London with Kid
Privately enclosed three acre garden onsite including children's playgroun
Kids Concierge
Grocery shopping service
Restaurant delivery service
Children's Board Games, Toys and sports equipment
DVD and book library
Emergency Baby Supplies on arrival
WII console and games provided free of charge on reques
olouring kit, postcards and London oriented books on arrival
Complimentary Teddy Bear on arrival for children under 10
Toddler dressing gowns and slippers
Board games and card games
Childrens books and DVD's
Local leisure centre with swimming pool
Close to cinema, river walks, Windsor Castle & Legoland!
Teamed up with local attractions providing a 20% discount voucher, i.e. the Jorvik Viking Centre
Cot - free of charge
High chair - free of charge
Trusted contact details for respectable child minding companies
Cots, extra beds, high chairs, sterilisers for baby bottles - free of charge
Backs onto well known Bushy Park with playground, sand pit, horse riding and tennis courts
Upper and lower garden suites are linked by a lovely walled private courtyard
YOUR TURN...
I know, I know...I've missed out your favourite family friendly serviced apartment! Let me know your number one apartment for families on Facebook or Twitter (#PASholidays) and I'll put together all of the favorites throughout the year in a round up review post!
---
Share this post
---