Our Pick Of The Best British Seaside Towns!
Friday August 1, 2014 by Guest Blogger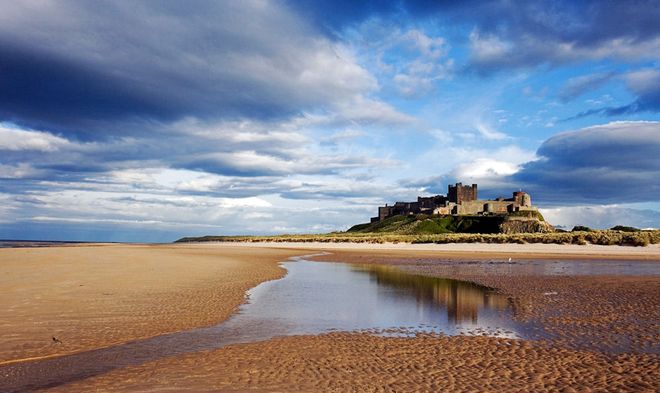 now that's what i call a beach!
British beaches so aren't about sunbathing - our weather is just all too predictable (almost always cloudy!), and even on a sunny day it takes a man of steel to venture into the sea (with the possible exception of the South Coast beaches). As a group of islands however, the British Isles has a disproportionately large number of beaches. And Britain's beaches all have their own unique character. And we love all of them! Even Iconic Skegness which really is as bracing as the famous postcard would suggest! (and by the way, their long, wide and award-winning sandy beach has loads of great stuff including donkey rides and the Fairy Dell paddling pool!) Magic!
Our British beach memories aren't about sunburn, but are instead all about shrieking seagulls, cliff walks, ice creams at the water's edge, and packets of fish and chips wrapped in yesterdays paper...
It's also about glorious shingles, soft golden sand, great windsurfing and the chance to see some amazing marine and birdlife. So although it might not often be sunbathing weather in the UK, we have beaches that are unfailingly beautiful come rain or shine.
So whether you're looking for a family friendly beach with facilities, a world-class surf spot or a solitary haven, you'll find it here in the Prestige pick of Britain's best beaches. Come with us then, as we venture into a warm (rather than hot) world of British charm and coastal cool. And, thanks to Benny Hill and Brighton rocking, there might even be some camp along the way too...
1 WHITLEY BAY SOUTH BEACH, NEAR NEWCASTLE.
This stunning beach front was originally a famous Victorian holiday resort, complete with a traditional funfair and bathing area. Now it's a popular holiday destination for people who come here to swim in the clean, safe waters. You can walk across the causeway to St Mary's Island and its gleaming white lighthouse. Or the sand and rock pool beach to the north of the parade is long and lovely too.
Where to stay: Nearby Newcastle is the gateway to north-east England's dramatic coastline and offers a range of serviced apartments to use as a base.
2 SANDBANKS, POOLE, DORSET
This huge, sloping stretch of fine golden sand that crosses the mouth of Poole harbour and continues all the way to Bournemouth has been dubbed Britain's Palm Beach. Clue: It's very expensive to buy here. But with its perfectly clean, swimmers-only bathing areas and designated barbecue sites for feasts with family and friends, that's not entirely surprising. The beach has had its European Blue Flag award for more than 22 years, making it one of the safest and most scenic beaches in Britain.
Where to stay: Heavytree Court Serviced Apartments offer one and two bedroom apartments in Poole town centre, near to the railway station which has direct links from London Waterloo - ideal for a weekend break.
3 BRIGHTON, SUSSEX
The straight, gay and lesbian friendly town of Brighton has a shingle and sand beach right at the centre of one of Britain's most famous and popular seaside resorts. Attractions include the recently refurbished pier, the superb nightlife, the seagulls (No, not the famous football team), and fine fish and chips. 
Where to stay: Brighton has a host of B&B's and hotels but for a more family friendly stay why not try the beach front serviced apartments on offer
4 LITTLEHAMPTON, SUSSEX
Enjoy one of the South Coast's quietest and loveliest beaches. And with not one, but two great beach cafés designed by leading British architects (the cute West Beach Café and the sculptural East Beach Café), once you've done swimming you can eat excellent fish and chips at the former or do fine dining at the latter! Head out of town to explore the shops and galleries of nearby Eastbourne.
Where to stay: This is the land of the traditional British seaside B&B and there are plenty to choose from in and around Littlehampton.
5 NEWQUAY, CORNWALL
This is Britain's most famous surfing spot and Tolcarne beach is where the largest of Newquay's four beaches joins up at low tide to create the mile of golden sand where the surfers play. Experience legendary Cornish hospitality (and pasties) along the way.
Where to stay: You'll be spoilt for choice in this picturesque area of the country - from boutique hotels, charming holiday cottages, funky B&B's and even Glamping!
6 RHOSSILI BAY, WALES
Just choosing one Welsh beach location is to risk insulting this country's stunning coastline, so Rhossili Bay it is then! Just joking!!! But seriously, as Harriet will tell you...it's pretty darn awesome.Read her article here.
Where to stay: If you want to be right on the beach in Swansea then Meridian Quay serviced apartments is the place to stay!
7 PORTSMOUTH, HAMPSHIRE
The gateway to the Isle of Wight has some classic beaches itself (at Southsea for example), and a hugely interesting naval history on hand. Nelson's flagship at Trafalgar, the HMS Victory, is an absolute must-see. One of the region's nicest beaches is on the Isle, however it's also one of the most secluded. Priory Bay near Seaview, on the eastern side of the Isle of Wight, is wonderfully unspoilt. 
Where to stay: Portsmouth marina makes a top base from which to explore the city and with some great serviced apartments available to book, it's the perfect place to stay.
8 LYTHAM ST ANNES BEACH, NEAR LIVERPOOL
Donkey rides on the sand, a renovated Victorian Pier, children's playgrounds, Lytham's famous green windmill, cafes, ice cream parlours and municipal gardens: What more could you want? It's a place of irresistible old fashioned charm, and plenty of Scouse humour to boot!
Where to stay: We have a range of great serviced apartment options suitable for individuals or families visiting Liverpool.
9 EXMOUTH BEACH, EXETER, DEVON
Exmouth offers visitors two miles of golden, sandy, family friendly beach, ideal for swimming, sandcastles or exploring the rock pools. And as if this wasn't enough, Exeter is home to a range of water sports with the town boasting great conditions for sailing, kite surfing, windsurfing, kayaking, paddle boarding, jet skiing, rowing, yachting, swimming, snorkelling and much more! 
Where to stay: West Street Mews one and two bedroom serviced apartments in Exeter are a great option. Ideally located in the heart of Exeter for shopping and dining, yet within a short drive of Exmouth and the beach.
10 ST HELIER, JERSEY
Beauport Bay's long trek (down a fairly steep path) from the car park at the top of the bay, keeps it from getting too busy. Surrounded on three sides by cliffs, the beach is sheltered from the wind. Soft, golden sand after the initial pebbles makes Beauport ideal for families. And for something a little extra special, contact the Jersey Aero Club who can fly you over to the D-Day landing beaches at nearby Normandy and be back in time for dinner.
Where to stay: SACO Jersey serviced apartments are close to the St Helier Marina on Pier Road, where you can enjoy strolls along the waterside, or wander into town for excellent tax-free shopping, restaurants and bars.
Ok, ok...I know they're trying to break free, but we just couldn't not include some of sensational Scotland's most beauteous beaches, even if they are in danger of being overrun by those damn haggises! So here's a bonus number for you:
11 FIFE, SCOTLAND
This charming wee peninsula juts into the sea above Edinburgh and has a load of pretty fishing villages with cobbled streets leading to small working harbours. There's variety too, in the form of little swimming bays and long sandy beaches. The stretch from St Andrews to Leven is the place to come for summer jaunts, ice-cream-hued houses, pastel boats and an aquamarine ocean. There are great seafood restaurants and a farm shop around every corner in Scotland's sunniest spot!
Where to stay: If you're heading to this area then Edinburgh is an ideal base from which to explore the region.  And Edinburgh has a great selection of serviced apartments which are ideal for both family holidays or romantic weekend breaks!

Prestige Apartments has a wide range of serviced apartments and self catering flats on offer throughout the UK. We have something to suit all budgets and group sizes, so when you're planning a trip to the seaside get in touch with our friendly sales team for more assistance.
Tel: 020 7704 6514 or email: sales@prestigeapartments.co.uk
YOUR TURN...
Have I missed your favorite UK seaside town? - Send me your nominations on Facebook orTwitter (#PASholidays) and I'll put together all of the favorites throughout the year in a round up review post!
---
Share this post
---