ELSA'S APRIL!
Sunday April 27, 2014 by Elsa Wangsten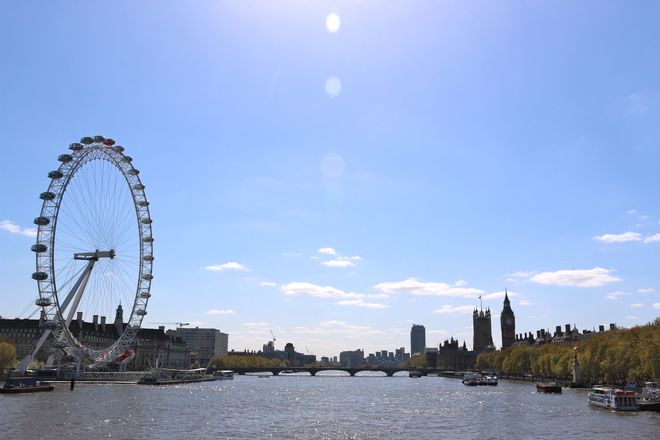 People say that time flies when you're having fun, and I have to agree with them because all of a sudden it's the end of April!
We've been up to a lot this month here at Prestige and so April has passed by in the blink of an eye. Here's what we got up to:
After many months of waiting, the day that we had all (some a little more than others) waited for, was finally here! The Backstreet Boys performed live at the O2 arena in Greenwich, and our lovely boss Alex treated the PAS girls to a nice night out. Reliving our teenage years (for myself that would be just 2 years ago, but there are some really old people here - some are even over 30), I think I can speak for all of us in saying that the 'Boys' were definitely back- and they put on a spectacular show! What a great way to start off the month of April.
Although not at quite the same level of excitement, Marietjie and I also attended SABA event hosted by Cheval Three Quays and we got to have a look around at this newly opened property. I had already heard that the apartments and the views from them were something above the ordinary, but I have to say that I was still taken aback by the design and layout of the apartments, as well as the magnificent view that greets you when stepping out onto the balconies.
I mean, the Tower of London, Tower Bridge, The Thames, The Shard and the whole of the London skyline, all in one panoramic picture, what more do you need?!
We were very tempted to test out the comfy looking couches (we restrained ourselves), as well as trying to sneak one of the 2x2m slimming mirrors into our large handbags, but I have to admit that we failed... 
It was just lovely seeing everyone and a big Thank You again to Cheval for inviting us!
The aforementioned South African lady and I have also been out and about viewing various apartments. After having previously shown us Trafalgar Square and Holborn, Sonata Aleknaite kindly took the time to show us around Citadines Prestige South Kensington , and just as was the case at both Holborn and Trafalgar Square, we were very impressed by the apartments! And as our capital unusually also got to enjoy some beautiful sunshine that afternoon we just couldn't resist staying for a cup of coffee at the restaurant around the corner, and catching up with Sonata on what had happened since we last saw her.
We've also had some office visits this month. David from Think Apartments came to see us and brought us some Easter treats, always appreciated, (both visits and treats) and it was nice to see you David! 
Our busiest bee Marietjie has been out and about again this month. She visited Nick at The Stay Club and viewed their superbly unusual apartments, as well as taking a trip down to Windsor to stay at Peascod House by Accommodation Windsor. She tells us that the apartment she stayed in was amazing and the perfect getaway for a weekend. (She assured us that the wine glasses were working perfectly and that the views were absolutely stunning - we'll just have to take her word for it.) This busy and very well travelled lady is now taking some time to (hopefully) relax a bit and has headed for warmer climes, and her hols in South Africa. We're all hoping that she has an amazing time, (and we're not at all jealous, seriously not jealous at all!)

In the beginning of April, just as the weather began to change, flowers started to bloom and the sun started to shine, so the two Alex's in the office took a little road trip down to the South West to meet up with Peter and Carmen from Clarendon Apartments and be shown their new Wraysbury Hall apartments. Whilst in Wraysbury (Alex the boss's birthplace incidentally), they also took the time to meet with Andrew Matthews and Pat Long from Thames View Apartments.
Our PAS girls Harriet and Alex G also stopped by at The Apartments Open Day in Chelsea and were shown the refurbished West House and had a little chat with Kasia, Emily and Margaret (all business talk of course!), and ended up by enjoying a few sneaky little Bellini's.
At the end of April I also took our newbie Nicky out for some viewings around town. We had a peek at one and two-bedroom apartments at Think Tower Bridge (thanks to Carina for taking the time to show us around) as well as a one-bedroom apartment at Fraser Monument that Vincent so kindly showed to us. After these we also stopped by at GoNative's launch of their new Monument property and were very impressed by their studios and one-beds as well as enjoying a strawberry buffet and a Prosecco (or two). Thanks to Kim and Jake and the rest of the GoNative team for having us, it was lovely seeing you all!
Phew, that was a busy month and time has, as previously stated, just flown by. As mentioned, we've had a new addition to the team, as Nicky has joined Reservations and we're all looking forward to welcoming in May (sunshine, please stay?), and the busy summer period!
We're also saying a sad farewell to one of the PAS girls for what we hope will only be a short while. Harriet will be off welcoming a fourth little member of the Hickey-family into the world, and we wish her all the best and a lovely time off. We're really going to miss her brilliant sense of humour and upbeat personality.
We'd also like to send the same best wishes to Lynn from COMO hotels, who we hear will be leaving at the same time as HH!

So, I think that's it for April, and thank you if you've managed to read this far! Next month Marietjie will be back at the keyboard and I'm sure that we'll have just as much to tell you at the end of May!
---
Share this post
---