BEACONSFIELD MEWS IS SOMETHING SPECIAL!
Sunday April 6, 2014 by Marietjie Snyman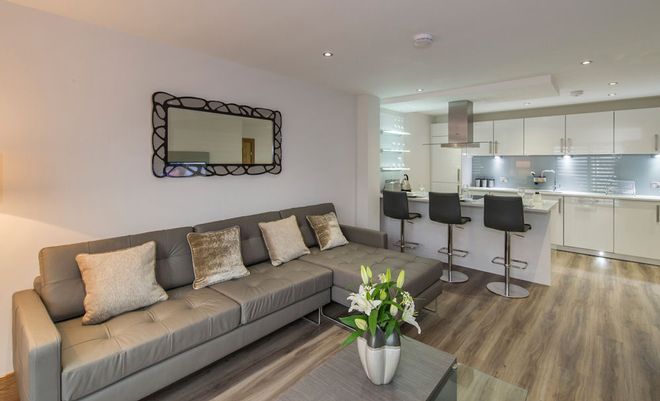 Meeting new people and going places is right up my street. So as part of my recent Scottish Tour, I of course, just had to go and visit the Granite City!
Arriving in Aberdeen by train from Glasgow (with an accompaniment of lovely scenery to take in while on the train), I was met Gavin who owns Beaconsfield Mews.
Once we were on our way I got a very handy and interesting guided tour of Aberdeen, before arriving at the apartments which are located in Aberdeen's business district.
They're only 7 miles away from the airport and close to the famous cultural quarter, offering various attractions such as theatres, cinemas and YES...shopping centres.
The exterior of the building looks well looked after, and offers a gated entrance and undercover parking, and although there's no lift there aren't too many stairs to climb either.
Beaconsfield Mews offers two and three bed apartments, all of which are bright and spacious. Shades of greys and browns have been used throughout the apartments with a splash of colour here and there, and although very uniform, every apartment does have a unique feel to it. Designed by an interior decorator! Just looking at the furnishings and fabrics you're immediately aware that some amount of money had to have been spent in order to lift these apartments to the level of something special.
The kitchen: like the rest of the apartment, it's only the best, and thoroughly kitted out with girl toys and gadgets. So if you're a foodie (unlike me who can barely cook a egg!) you'll be able to cook a feast!
In summary, I feel I can quite confidently say that these are Luxury serviced apartments...and the rate reflects this. You'll be sleeping very comfortably in the finest bed linen. Bathrobes, slippers and complimentary toiletries are most certainly provided. And I know this is a filthy habit - but watching TV in bed...come on, who doesn't enjoy a bit of that? So yes, there are TV's in the bedroom too! Another nice extra is the balcony, which is just ideal for those (rare, it is still Scotland - Ed) sunny days and lazy weekend afternoons.
There's a minimum stay requirement here, so if you're looking to stay for 3 nights or more, then you're in luck!
Click here for more information on Beaconsfield Mews
Follow me on Twitter: @MarietjiePAS
---
Share this post
---