MONARCH HOUSE KENSINGTON - AGENTS NIGHT
Monday October 21, 2013 by Marietjie Snyman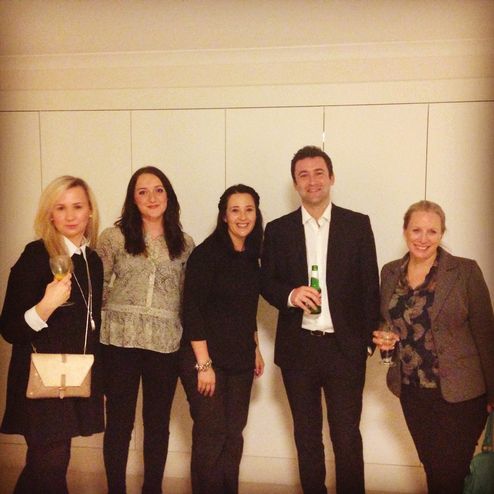 So, we were invited along to Agents Night at Monarch House serviced apartments in Kensington! Not having seen the apartments in a while we were all really excited to go... 
Finishing up here at Hansard Mews, we did some last minute touching up of makeup and soon Alex Wood (the boss lady), Alex G (the manager), Elsa (the Swede) and myself (Marietjie) were on our way.
Monarch House is located just behind Kensington High Street with an excellent choice of shops and restaurants and we also noticed that there was a handy Waitrose right next to the apartment building as well as a pub (more about that later). We arrived and we were shown to the 3 bed apartment where the evening's event was being hosted. As you walk in you immediately realise that this is a very spacious apartment. With the hello`s out of the way we all grabbed a beverage (more to follow) and started to explore.
This particular 3 bed serviced apartment consisted of a king sized bedroom, a queen size bedroom, a twin bedroom and three bathrooms, as well as a spacious lounge area, a kitchen and two balconies. The apartment is decorated in traditional neutral colours but still managed to feel very homely! One would certainly be able to add a cot or extra bed in any of the bedrooms if needed. The balconies were also a nice extra touch. Monarch house prides itself on providing an exclusive concept in luxury living - and we approve!
Alas, work done it was time to mingle - and so with our glasses topped up we mingled away...catching up with all the usual suspects and also meeting a couple of new faces. We always try and make it to events like these as being an agent, viewing and keeping up to date with all of our suppliers apartments is a top priority - but more importantly relationships are built over a glass of wine! Wouldn't you agree?
And so to The Nibbles: The lovely David from Monarch kept us all fed with delicious snacks. Very tasty indeed!   We couldn't believe it - he just kept them coming! And so we just kept eating. And then just when we all thought we were completely and absolutely full the sushi started coming out...YUM!
As the evening wore on and our glasses kept being topped up we were all having a very good time! Such a good time in fact that we didn't quite realise that most of the guests were starting to leave. At that point someone suggested that we move the "mingling" to the pub downstairs, and with no thought to our own safety, we did so. In hindsight this would prove to be a mistake however at that juncture and with no hesitation whatsoever Alex W and Marietjie both agreed to "Just one more glass".
...Famous last words...
The morning after the night before...it hurts so much! I haven't wished that it was a Saturday and not a Friday morning in a very, very long time! With my fuzzy head I got ready for work and got a sneaky McDonalds breakfast wrap on the way in! It was going to be a long day...
But in hindsight and with lots of coffee and Nurofen, we agreed that it had been great to meet new people, catch up with the old ones and view Monarch House again. May we once again take this opportunity to thank David, Nicholas and Hadi for a top night and a hangover that I won't forget for a very long time!
See our Pinterest board for more photos from the night. 
For more information on Monarch House Serviced apartments:http://www.prestigeapartments.co.uk/property.cfm/id/97/London/Kensington/Monarch-House#.UndpaHC-om9
Follow me on Twitter @MarietjiePAS
---
Share this post
---