SUPPORTING RE:LOCATE MAGAZINE WITH THE KEY TO FREEDOM CHARITY PROJECT
Thursday October 17, 2013 by Marietjie Snyman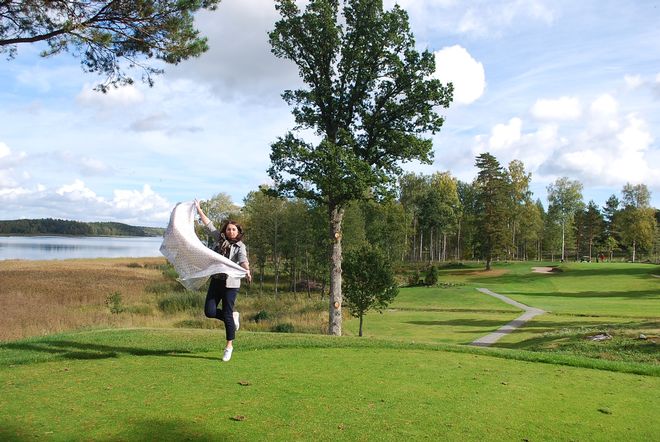 The Prestige Apartments team had great fun with the Key to Freedom scarf. Not only did the scarf visit our office in West London. We also sent the scarf to Sweden and France. Great charity project to be part of.
The Key to Freedom initiative supports the Women's Interlink Foundation (WIF) charity, which equips vulnerable young women from West Bengal, in India, with skills to earn an income. Through Key to Freedom, these beautifully crafted silk garments have been made available for sale through leading UK retailer Topshop.
Each of the limited edition scarves, which are also fantastic sarongs, is hand made and signed by a rescued woman. A payment is made directly to her, enabling her to take steps towards building a new life.
The project's launch followed a visit by The Duke of York to India as part of Her Majesty The Queen's Diamond Jubilee last year, during which he met Aloka Mitra, founder of WIF, and some of the young women who are being trained and supported.
Fiona Murchie, founder and managing editor of Re:locate, was alerted to the project by her son Tom, who is currently seconded to the Duke of York's office, when he gave her one of the scarves. 
She says, "I was so impressed by the quality of these beautiful garments, and the story behind them, that I felt we simply must get involved. As the Re:locate charity A Gift of Time was born out of the Jubilee Hour - A Gift of Time, which celebrated the Queen's Diamond Jubilee, the fit is perfect.
"I immediately bought five of the scarves, before they were snapped up, and our plan is to send them round the country, and as far around the world as possible, photographing their progress along the way and raising as much publicity as possible.
"At the end of the year, we will auction the scarves as prizes and raise funds for the Women's Interlink Foundation. Of course, we hope that, as well as having fun posting pictures of themselves wearing the scarves this summer, our readers, advertisers and sponsors will make a donation to WIF.
"Supporting young people, nurturing talent, and the development of women are high on our agenda. As an international multimedia publishing company supporting global growth, we are keen to raise awareness and find corporate and social (CSR) responsibility projects that major international corporations and UK SMEs can get behind. This wonderful initiative ticks all the boxes!"
You can still donate money: www.virginmoneygiving.com/keytofreedom
---
Share this post
---