ELSA GETS HIGH ON...IMPRESSIVE VIEWS AND TOO MUCH CAFFEINE
Monday October 7, 2013 by Elsa Wangsten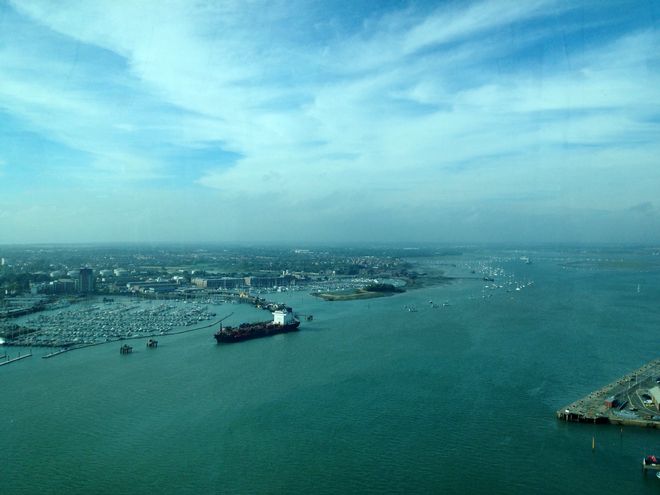 After my early morning run (I'm mad, I know), I was all ready to head down to Waterloo and take the train to Southampton. With 40 minutes to spare I positioned myself in the long cue at Starbucks for a morning coffee along with the many other earlybirds. After ordering a large coffee, which I needed as I had an hour and a half to kill on the train, I was still way ahead of time and even managed to catch an earlier train, yay!
Being relatively new to this country I like a long train journey as it gives me an opportunity to see some other parts outside of what can be found within London's borders. The morning started off being quite sunny as we headed out passing Battersea Power Station however as we continued on further south it turned a bit more grey, a bit more foggy and the fields a bit more green.
After an hour and a half I arrived an hour early at my first stop for the day: Southampton! Being early I decided to walk the bit down to Oxford Street where I was meeting Paula at Town or Country, as this way it gave me the chance to see a bit more of Southampton.
Paula had kindly offered to show me some of their apartments and I met up with her in their office. So we headed off to see some serviced apartments, Paula telling me that she wanted to show me three different buildings offering various styles and designs. First off was a studio apartment at Oceana Boulevard. This one was really nice and spacious for a studio and it had a separating wall between the bed and the kitchen giving it the feel of a one-bedroom apartment. The style was very modern with hardwood floors and a spacious bathroom.
Next up we headed off to Imperial Apartments -  Paula told me some interesting fact about this building. It had apparently been a hotel especially built for the people who where to head off on Titanic. This really showed when you stepped into the building with a big salon welcoming you. Two crystal lamps are hanging in the ceiling and there's a piano in the corner. The wide corridorsin the building were apparently also specially designed for the occasion so that the women, with their big dresses, would be able to pass each other. In this building I got to see a two-bed, the style of which is more traditional to match the rest of the building. The two-beds here all have two bathrooms with an en-suite to the master bedroom.
Last on our tour was a two-bedroom apartment at Empress Heights within walking distance of the restaurants and bars of Ocean Village Marina.  These were very modern in style both in the exterior and interiors. The apartment I got to see was located on the sixth floor and had anamazing view over Southampton harbour from its own little balcony. We finished our mini tour, which had now been disrupted by the stormy Southampton rain, with a nice cup of tea and coffee, after which I said goodbye to Paula and her colleagues and headed back to the station.
Next stop was Portsmouth Harbour, which was also a new destination for me, for a visit to theSpinnaker Tower. Upon arrival however, it was time for lunch and what could be better than having the weather improving and admiring the boats while enjoying a wrap? Then it was time to venture up the Tower and what a view! I visited The Shard last month, and while that was something extraordinary, this was almost better. The building is not quite as high as The Shard but when looking out you can see the Portsmouth marina with all of its boats, as well as the entire city of Portsmouth and out beyond to the blue horizon out at sea. With the sky clearing and some sun shining over the city the result was breathtaking…
Once back on terra firma, (and still high on the view), it was almost time to head back home to London. But with just a little more time to kill, I took the opportunity to visit some of the many retail outlets that can be found around in Gunwharf Quays, among them Nike, GAP and Next, and I may have walked out with a new item or two! Filling up with yet another cup of coffee I jumped on the train back London, two cities richer! 
See my photos here: http://ow.ly/pyUtI
Follow me on Twitter @ElsaWangsten
---
Share this post
---