PRESTIGE APARTMENTS GO(ES) NATIVE
Friday November 29, 2013 by Elsa Wangsten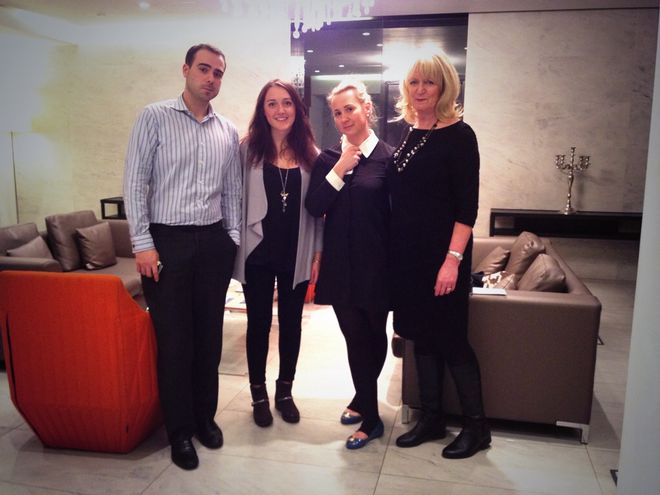 Chilly winds but a bright and shining winter sun made for a perfect Tuesday to step out of the office for a couple of hours (uh, yeah!...if you're Swedish!) and see some apartments.
That said Alex G and I scheduled the afternoon for this purpose and planned an afternoon with Kim from GoNative in order to have a look at two of their West London properties, Sussex Gardens and Lees Place, which neither of us had seen before.
Leaving the office at quarter to four we went the few stops on the Central line to Lancaster Gate from Shepherds Bush.  Coming out from the station you turn right, and around the corner. You then walk five minutes up the street and "la voila!" Sussex Gardens!
Stepping in we were greeted by the warm and lovely Kim, who by the way looked gorgeous, in the stylish reception area. There is a 24 hour reception, which at our visit was manned by two charming young gentlemen, and there are a couple of nice couches and chairs where guests can sit down and have a read of one of the newspapers provided in between sneaky peeks at the aforementioned young gentlemen.
We had a couple of apartments to go through at Sussex and first up was a Classic one-bedroom on the lower ground floor. For many, lower ground floor apartments are not their first choice, but with these you didn't get the feeling of being on the lower ground. With enormous windows, pretty much from floor to ceiling, you get a lot of light in and aren't prompted to think of where the apartment is located.
Next up was a two-bed on the 'Wood Floor'. At Sussex there's a different theme for each floor and this was a lovely apartment that both Alex and I immediately fell in love with! The décor and colour scheme of the apartment was lovely and with the second bedroom on a second floor the layout of the apartment was charming.
After viewing another two one-beds (these themes were 'Playful' with lots of colours and cartoon prints and 'Hollywood Glamour' with gold 'n glitz and richer colours) it was time to head off to the next property - Lees Place in Mayfair.
But not before getting the obligatory social media photo in reception with Django and Kim, after which we were "free" to visit the next of the GoNative "chain"!
Spoiling ourselves with a taxi Kim, Alex and I were down in Mayfair at Lees Place in no time.  Getting the keys from the key safe, (this property offers self check-in), we headed up to the third floor and got a look at a two-bedroom penthouse.  And Oh my gosh! What a lovely apartment! The layout and colours made me want to move in at once. Looking out of the window you have a terrace going from the living room to one of the bedrooms, and with a spacious living room connected with a big kitchen it really lived up to the rumours we'd heard of it being a fabulous apartment. Both the bedrooms have en-suite bathrooms, and as a guest you're spoiled with a little bathroom kit with shampoo and toothpaste, as well as getting daily maid service Monday to Friday.
Not really wanting to leave the penthouse, and seriously considering staying for the rest of the week, (we figured our colleagues could manage our bits in the office for a couple of days), we eventually managed to tear ourselves away as it was getting late and we had a final apartment to see before it was time to call it a day.  Walking down to the first floor we also got to peek at a classic two-bedroom, which if I am being honest would be more than enough for me as well!
Pleased with what we had seen we walked the five minutes up to Oxford Street, passing a Virgin gym on the way, (I know! I am the gym freak in the office…), and were soon up right next to Primark and Parkhouse, with stores such as Zara and Urban Outfitters, (perfect for the Christmas shopping that is just around the corner!).
Jumping on the Central line from Marble Arch we were soon back in Shepherds Bush again, after having said our goodbye's and thank you's to Kim who joined us on the train up to Notting Hill Gate station. Happy with the afternoon I said goodbye to Alex and headed home, pleased with the days new property knowledge and the addition to my library of serviced apartments!
A big Thank You once again to Kim and GoNative for taking the time to show us around!
See our Pinterest board…
Follow me on Twitter @ElsaWangsten
---
Share this post
---