PRESTIGE'S PUDSEY BEAR SERVICED APARTMENT CHALLENGE
Monday November 25, 2013 by Marietjie Snyman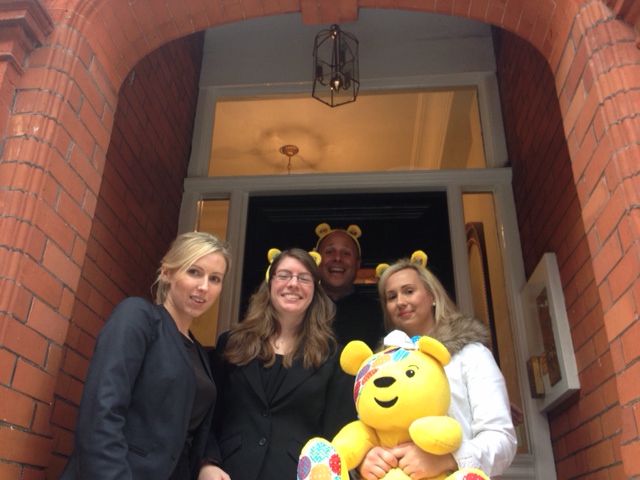 Grey London sky…big, bright yellow bear? Yep, that was the unusual sight that greeted many commuters on our Prestige's Pudsey Bear Serviced Apartment Challenge day for Children in Need!
The Challenge? Just how many serviced apartment providers could Pudsey visit in one day?
So off we set and this is how it went.
Apartment number 1: Marietjie and Alex G met up very early at our Shepherds Bush Basecamp to begin the Everest-like challenge by heading over to Hampton Court Palace to see Lucy from nearby Craven House. Pudsey took in the amazing views of Bushy Park, gave a couple of quick waves to his adoring fans and we were back in the car – GO GO GO! Photo: Craven House -  Alex G, Lucy & Marietjie
Apartment number 2: Twenty minutes by car later we reached 20 The Barons, which is in St Margaret's near Richmond & Twickenham. We were greeted by Alison and her team and took in their beautiful apartments! We just had time for a quick look around before reminding ourselves that we were here to do a job - SMILE SNAP RUN! Photo:20 The Barons - Alison, Marietjie & Alex G
Rushing back to Shepherds Bush with a watchful eye on the time, we called Elsa to make sure she was ready to meet Marietjie & Pusdey to continue the mission via the central line!
The Tube?…in Rush Hour? Honestly, what were we thinking?
Apartment number 3:  Staybridge Suites in Stratford, just minutes away from Westfield Stratford's giant shopping centre. As Marietjie and Elsa were making a mad dash for Staybridge Suites – temptation struck in the form of… you guessed it - Starbucks!! After a lightning quick coffee stop, take away cups and Pudsey in hand we arrived at the apartments!   There we met the lovely Anca who walked us over to their gym to pose for our Pudsey photo overlooking the  Olympic stadium (and no, it's NOT the O2 Elsa - that's in Docklands!). Very impressive views! Photo: Staybridge Suites - Marietjie, Anca & Elsa
And so back to the central line…and pressed up against the windows we set off to our next serviced apartment.
Apartment number 4:  Citadines St Marks  located in Angel where a peek at the watch showed us making good time…speed walking and starting to look a little less glamorous we arrived at St Marks. After some quick hello's we had our Pudsey photo taken with Gautam. Unfortunately Harriet couldn't make this leg of the trip. Photo: Citadines St Marks – Elsa, Gautam & Marietjie
More speed walking took us back to the Northern line where we made a quick stop as there was a marvellous photo opportunity of the street where our old offices use to be in  Colebrooke Row - SNAP!
Apartment number 5:  So taking that Northern line to Kings Cross we jumped off and walked over to  Holborn SACO which took us around 15 minutes. Arriving at the apartments we posed with the handsome Hassan! Shame we didn't have time to hang around and chat… Photo: Holborn Saco – Marietjie, Hussan & Elsa
Dashing out of the door Elsa and Marietjie took a minute or so to catch their breath and sense of direction – ok, need to get to Borough - lets walk to Holborn tube which should be just 10 minutes away!
Apartment number 6:  Quite literally running into the Marlin offices next to their Empire Square apartments we managed to get a "groupie" (as opposed to "selfie") shot with the brilliant Marlin girls. Our favourite  Marlin lady Lidia offered us coffee but sadly we had to decline! That almost Never happens.  However. We had Places to Go and Money to Raise. Onwards! Photo:  Marlin –  Elsa , Lidia & Team
And so to Apartment 7: Think Apartments Tower Bridge, walkable from our previous visit. We rushed overand met with David and the Team and got a great photo before shooting off towards  London bridge  which worked out perfectly for us as Pudsey was hoping for a scenic photo with The Shard, which he fortunately got – how could we say no to our little yellow friend. Photo:Marietjie, David & Team
Funny moment of note:  Marietjie nearly walking into a scaffolding pole whilst walking and tweeting at the same time! Thank goodness for Elsa who saved her a lot of bruising and embarrassment!
Apartment 8: Jumping onto the Northern Line we headed to  Pimlico via a quick change at Stockwell. Exiting the station we had a short walk to Dolphin House where we were met by Magda and her magnificent team.  We all headed down to their spa area for our group shot where once again, temptation struck…massages & facials, mmmm…  BUT NO, FOCUS…AND GO! Photo:  Elsa, Marietjie, Magda & Team
PAS Team Swap: It was time for Marietjie to head back to the office in Shebu, with Alex G hitting the road to meet Elsa and Pudsey at  Baker Street. We had four apartments to see in the area, all within walking distance of each other.
So, Apartment 9: After precisely 6 minutes walk from Baker Street we reached Durweston House by Deep Blue Apartments. Just time for the obligatory posing before hitting the road. As the Bee Gee's said: "there's no time to talk!" Photo: Durweston House - Alex G & Pudsey
Apartment 10:  5 minutes more walking brought us  The Apartments at Chiltern Street, which is conveniently located on a corner next to a, yes you guessed it…corner shop. Ideal for those mornings when the coffee addicts among us realise that they have no milk for their fix. Photo: The Apartments Chiltern - Pudsey
Apartment 11: Globe Apartments on Chiltern Street where it's always a pleasure to see the Globe Girlies (sorry Glo-boys) and where Kiri, Lizzie and Joanna posed with Pudsey while Evelyn took photos! #TeamWork! We could have stayed here all day! But no time to waste – this is for charity remember! Time to head off. Photo:  Globe Apts - Joanna, Lizzie, Elsa & Alex G
Apartment 12:  Howard House by the Apartment Service was en route back to the tube, so with a quick Pudsey snap we were soon heading Chelsea way. Photo: Howard House – Pudsey & Elsa
Best way to get to Chelsea from Baker Street? Well that's an easy one…just jump on the Jubilee  (recently voted best tube line), walk off at Westminster, 3 stops on the Circle and simply step off at Sloane Square.
Lucky Apartment 13: We were greeted by Kasia, Emily & James at  The Apartments Chelsea. We had a quick show around their recently refurbished apartments.  "Impressive!" said Pudsey! Quite a few photos later (purely for Comic purposes you understand)…we were out the door and on to our next apartment. Photo: The Apartments Chelsea – Kasia, Emily, James & Alex G
Apartment 14: Historic 1930`s built  Nell Gwynn House in Chelsea, where once again Pudsey was impressed with the décor in the reception area. We met with Gosia, Stephanie, Jamal (top man) and Nikki. Here we took the opportunity to take a much needed breather in their lovely foyer. Photo: Nell Gwynn House – Elsa, Alex G, Stephanie, Jamal, Nikki & Gosia
With energy levels running low - and spotting a  Starbucks across the road - Pudsey insisted on quick stop.  Checking our schedule – we just had time! Lucky Pudsey. So after a quick coffee we were on our way again to the next apartment which was just 15 minutes away. Well, it would've been had a certain un-named team member not given us incorrect directions – we won't name any names…will we….?
Apartment 15: Roland House reached we met Monica 'n Mark who offered us a quick tour. They have 97 contemporary studio and 2 bedroom serviced apartments in the very popular area of  South Ken! It was of course great to meet the team but time was ticking… ONWARDS! Photo: Roland House – Elsa, Monica & Alex G
OK, next apartment just around the corner…keep going…
Apartment 16: …and so we arrived at  Astons Apartments! There we managed to get most of the team away from their desks for a cheeky photo shoot in front of the building.  Amy and Team, you seem like a fun lot – come and see us soon! Photo: Astons – Amy & The Team, Elsa
At this point the our feet were flagging…but we kept reminding ourselves what a great cause the Children in Need Charity was and we pushed through…
Apartment 17: Flying visit – quick snap outside Citadines Prestige South Kensington. Note how lovely and Fresh Elsa looks! Been going since 7am….but is still smiling! Photo:  Citadines South Kensington – Elsa & Pudsey
Apartment 18:  Unplanned stop (bonus!!), as we passed the very popular Point West building. Pudsey managed a quick pic before, in true Kerouac style, we were back on the road…. Photo:  Point West – Elsa & Pudsey
Right, heading towards Kensington now. At this point we received a call from PAS HQ informing us that Kata (Office Mum/Operations Lady) would be joining us at the next apartment!
Apartment 19 : Arriving at  Monarch House  Kata joined forces with the last two standing PAS girls Alex G and Elsa, and they were given a warm welcome by Nicholas & Hadi.  Pudsey took a bizarre liking to the aquarium in the reception area. Weird.  Anyway, while we were shown up to a 2 bed apartment and enjoyed the  amazing view from the terrace, Pudsey chilled with the boys for a bit.  Photo: Monarch House – Nicholas, Kata, Hadi & Elsa
Eeeek...it's getting dark now and we still have more apartments to see! With a beautiful sunset ahead we made our way to  Notting Hill on foot – which only took us 30 torturous minutes! But no complaints from anyone as the end was in sight!
Apartment 20 : Go Native Notting Hill, where the G(i)N team (Gin o`clock – special reference for the team - they'll get it…) of Kim, Agnes, Jake and Lauren greeted us! Lovely Pud-pic taken, we said our goodbyes. Photo: Go Native – Elsa, Kata, Lauren & Agnes
"Are we there yet???"  was a phrase we heard once or twice during the day, and with only one apartment left to see, there was a genuine buzz of excitement! (or was it just our numb feet??)
Drum roll…The Final Apartment - Number 21:  Linden Gardens, where we knocked on the door and were invited in by Hardwin. One of our last photos of the day sawPudsey in a studio apartment. Great to finally meet you, Hardwin! Photo: Linden Gardens – Kata, Alex G & Hardwin
So finally, all done and tired but happy, we headed back to our offices in Shepherds Bush.
We would like to THANK everyone who donated so generously and supported us brilliantly in our #PasPudsey challenge!
 See our Pinterest board….
You can also track the day's events on Twitter #PASpudsey
Thank you to everyone that made online donations: http://www.justgiving.com/PrestigeApartmentsPudsey
Also…a special thank you to those of you that made donations on the day.
*Marlin girls – Thank you for your individual donations.
*Globe girls – Kiri, thank you for your donation and a BIG thank you to Mark for the cheque.
*Nell Gwynn House – Thank you for your donation.
We've so far raised £749.00 – Help us reached £1000.00
---
Share this post
---