TEA TIME AT THE MET
Wednesday November 20, 2013 by Elsa Wangsten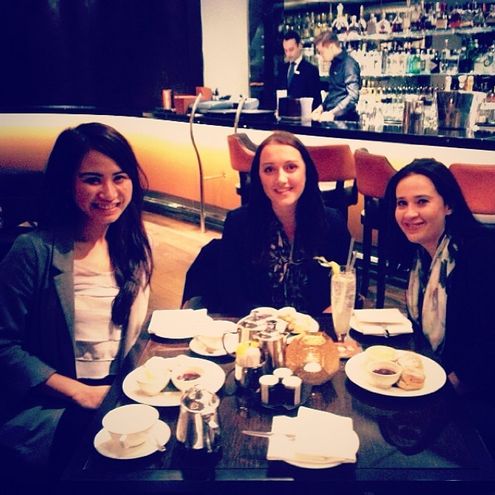 Winter is just around the corner and we're now really starting to feel the 'cool breezes' coming after being spoiled with a lovely warm summer! With Autumn there also comes a bit more time to get out and meet providers and this Tuesday it was finally (!) time to meet up with the lovely Lynn at Metropolitan by COMO.
Leaving the office at 3 I headed for the tube and travelled to Hyde Park Corner where I met up with Marietjie outside the station. With just a short walk from Hyde Park Station we arrived at COMO in no time and sat down in the warm reception area to wait for our appointment.
Meeting Lynn we got a good general show around of the property and the first stop was the gyma couple of floors up. Being a health freak myself this kind of thing always interests me, and so I was pleasantly surprised to find out that as a bonus you not only get access to the gym, but also have the chance to train with a personal trainer who, if you're staying for a longer period, can help you set up a training plan.  Exciting or what!
Next stop was the property's spa, and both Marietjie and I were amazed by the lovely scent that greets you as you walk in, emanating from the wonderful spa products provided by COMO. The spa consists of four single treatment rooms and two double treatment rooms and this is also where you can get a full range of specialist facials, massages and body treatments. I think that we were all pretty keen on spoiling ourselves, but that that would have to wait until the next time as we still had  more to see.
The first serviced apartments that we got to see were two two-bedroom apartments at Brick Street. With a master bedroom with en-suite bathroom and with the second bedroom offering the chance to have either two single beds or one double bed (and WiFi throughout!), it's an apartment that would suit both a family on holiday or colleagues on business. Certainly, If one needed to relax and heading down to the spa felt a bit too much, one could instead easily access the free yoga channel on the TV! Yoga mats can of course, be provided! Why not do some meditation in the apartment. That's what the extra space a serviced apartment provides is for isn't it? And despite the fact that London can be very busy, Marietjie and I were both amazed of justhow quiet the apartments were!
Next up was a two-bedroomed apartment at 22 Hertford Street, which with its amazing windows and high ceiling, was I think, both of our favourites. The kitchen was lovely with an island in the centre and chairs around for your dinner guests to keep you company. (I wouldn't mind cookingmy New Year's dinner here!)  Something else that really caught our eye in the apartment was the bathroom with its enormous walk in shower, and regarding  that, I'm definitely doubtful as to whether I would be able to get ready in time if I were to stay here…
So, happy with what we've seen and not really ready to let our hostess go, we decided to stay for a cup of tea in the gorgeous and warm MET Bar. We were spoiled with both warming teas andrefreshing cocktails, (non-alcoholic of course, what do you think this is, some horrendous jolly?), and freshly baked scones…
… and therefore managed to catch up with Lynn for another hour!
 We started off talking shop but that eventually drifted off into something else and we ended up having a lovely girly chat, (just as you should when having afternoon tea), however as time tends to fly when you're having fun, it was soon time for us to say goodbye to Lynn and head back home!
What a great, informative trip out!  Thank you again Lynn for taking time out of your day to see us! And remember to come visit us soon!
Follow me on Twitter @ElsaWangsten
---
Share this post
---