NEW KID ON THE BLOCK!
Thursday November 14, 2013 by Alex Wood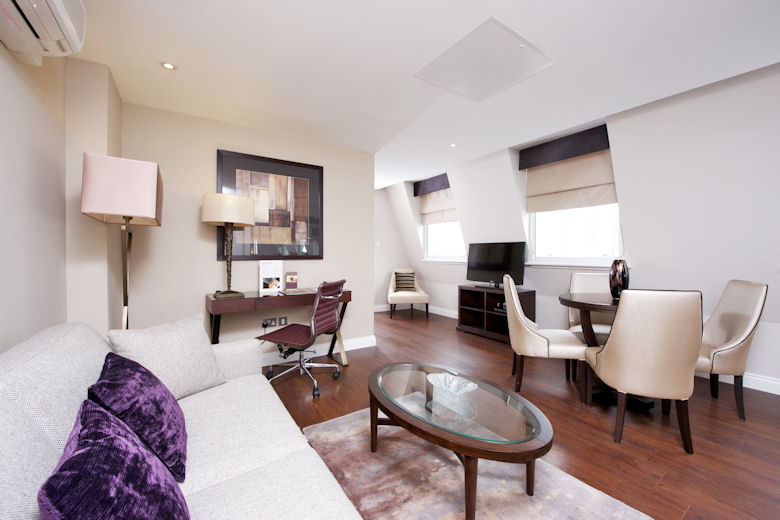 Prestige Apartments was invited to visit the newly refurbished Fraser Suites Queensgate this week, and as the Fraser brand always promises something special I was keen to find out how theserviced apartments had been transformed. 
If I'd only had a little more time and a little more sunshine I'd definitely have taken the tube to South Ken and strolled past the V&A and the Natural History Museum, both of which are housed in such beautiful buildings. Being pressed for time however, I jumped out at Gloucester Road station instead which is just moments away.Just a few minutes walk along the Cromwell Road brought me to the property which I've always been impressed by. The apartments are housed in an imposing yet beautiful white stucco period building which covers a whole block along the Cromwell Road! Its location is absolutely ideal for the Kensington, South Ken and Knightsbridge areas.
Having gotten there so quickly in the end, it transpired that I was now actually early! The helpful receptionist therefore suggested that I waited for my contact Sin-Han, in their new and veryswanky bar/café area just off of the reception enabling me to enjoy the refreshments that had been laid on. As it happened Sin-Han was just finishing with another group so she was soon free to take me around and show me the new and improved communal guest areas and the lovely apartments. We then continued through the bar area to the breakfast room with its charming outside deck area. One imagines that on a sunny day (yes, we do get the occasional one in London!) this would be a great spot to sit and relax before starting your day. They've also managed to squeeze in a great work space area which means that you can have a quiet zone to get on with some work or catch up with your emails out of the apartment. If you're travelling with kids that could be invaluable! There's also free wifi in all of the rooms however, so if you do have your own laptop you have the option to stay put in your apartment too. Handy. There's clearly been a lot of time and effort put into the renovations and it's been worth it because it's become a really lovely place to stay.
Sin-Han then took me up in the lift to show me a studio flat and a two bedroom apartment. The studios are really well laid out with separate sleeping and living areas so that one doesn't have to sit on the end of the bed in order to watch the hi-tech flat screen TV! By the way, there's also a very sleek, modern looking kitchenette which should keep most of you budding chefs happy. The shower room too, was very luxurious with a shower large enough to fit about 6 people, let alone the 2 that this studio apartment is meant for! The two bedroom apartment that Sin-Han showed me next was also of a good size with the same neutral, sophisticated décor and very smart kitchen area. These two beds have one bathroom as well as a shower room so are ideal for families with small children.
What makes the apartments at Fraser Suites Queensgate really useful is that the studios & one bed apartments can have a twin bed configuration, as can the second bedroom in the two bed apartments, so there's good flexibility in terms of any potential sleeping arrangement!
Having finished my whistle stop tour of the apartments I really had to dash off again, but Sin-Han managed to sneak me in for a peak of the fantastic meeting room (available to hire) on the ground floor on my way out.
The quick dash to the station took just a couple of minutes, and as it was quite so near, I took a couple of minutes to pop into the small shopping centre next to Gloucester Road station to do a quick shop in the Waitrose supermarket. And of course to grab that all important Starbucks to perk me up for the rest of the day!!
See our Pinterst Board....
Follow me on Twitter @alexwpas
---
Share this post
---