AROUND THE WORLD IN 4 HOURS
Thursday November 7, 2013 by Elsa Wangsten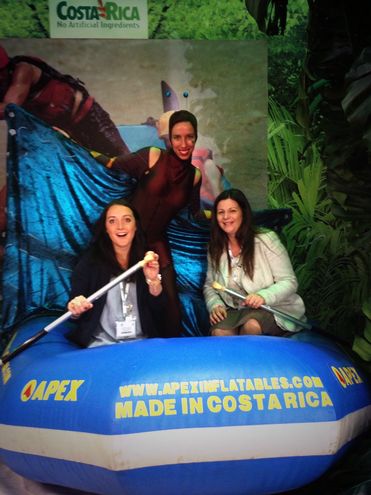 There is just something about the classics. Jules Verne took us around the world in 80 days, a trip that I think made most of us add world travelling to our bucket lists.  At least it is on mine! When we at Prestige then heard that the World Travel Market was on we couldn't resist the opportunity to, if not physically travel around the world, at least to make an imaginary journey.  
Working with Serviced Apartments and travel you have daily contact with people from all over the world and it's always nice to get a chance to learn more about the culture and traditions of where your costumers are from.  The World Travel market taking place at the Excel Exhibition Centre did give visitors a chance to get some of this experience and knowledge and at Prestige we were eager to go and explore. 
That said and done, we decided that we would make our own version of Verne's classic tale. 
However when one is living in a society where everything needs to be shorter and faster, (trains increasing their speed from 40kph to 200kph, food cooked in 10 minutes compared to the old classic stews simmering on the stove for hours as well as essays now being composed at a maximum of 140 characters), we thought we needed to match this new, faster pace and travel the world in only 4 hours!
Starting our trip on Tuesday, Alex G and I set off for a couple of hours #OutAndAbout, and travelled from the West side to the East side London.  At Excel we decided to head for the European part and start off easily with the countries we knew a little about. We found our way to the Poland Stand, where we were challenged to play some Volleyball. The mission was to hit the ball to as high a speed as possible, and after some quite embarrassing misses, we managed to smash that ball pleasingly hard. 
The joy of finding out that we (Sweden) actually had a stand at the exhibition was further increased when we realised that they were offering out Swedish candy and cakes! We had some Swedish Daim and then headed off to meet the lovely Magdalena Krol from Shortstays for a cup of coffee and a little catching up, after which it was time to travel home. The story does not end there however, because as you readers who have concentrated will have noticed, we had not yet travelled round the world, only gotten as far as our own continent. 
So the next day we were off again, and this time I had the company of Kata who I met outside Excel on a grey and rainy morning in London. Due to the weather we decided that it was time to head for warmer climes and we set direction towards Africa. Exploring our dream destinations Kata got some information about where to go in Egypt for the best experiences and also had to do some compulsory posing with the sphinx. 
Exploring Africa a bit further we also found our way to the South African stand from where our lovely Marietjie and Richard hail, and after snapping some photos here as well as taking some time out to go on Safari, we headed to Asia. As I have Vietnam on my bucket list I was pleased to find this stand and get some information on where to go and what to do.  A big thumbs up and I might need another holiday soon…..
Asia also included discovering spices from Kerala such as White Cherry, Cardamom and Cinnamon, and many more that I cannot name.  We also found some jewellery from Morocco, (this was back in Africa), and had to restrain ourselves in order not to shop, tempted by the beautiful silver bracelets and golden rings. 
So, we had now been to Europe, Asia and Africa and after a quick stop in Australia and New Zealand we headed to The Americas and the Caribbean. We walked on Broadway in New York, went to Disneyland in Florida, hiked in beautiful Canadian landscapes and did some white-water rafting in Costa Rica, (hello sore arms!).  
Phew, with half an hour to go on our trip we decided to return to Europe and hike in the Austrian mountains, enjoy some drinks in Hungary, eat some more Swedish candy and biscuits and be provided with some fine ceramics from Vietri in Italy! 
So, after 2 hours on Tuesday afternoon and 2 hours on Wednesday morning we had finally completed our mission: Around the world in 4 hours! 
Recharging with a cup of coffee we then headed back to reality and the office, happy and excited and with much inspiration to actually begin ticking off those bullet points on our bucket lists. 
Have a look at our Pinterest board to see some photos from our adventure, (and also note that we managed to visit all of the countries representing the people from Prestige: Hungary, Bulgaria, South Africa, Poland, the UK and Sweden!) And to all those who managed to keep up with my essay, which I've now extended beyond 140 characters, thank you for reading and no matter whether you're heading to Spain, India, Brazil, Canada or the UK, (and for the latter might need a serviced apartment?), I wish you all #HappyTravelling!
Follow me on Twitter @ElsaWangsten
---
Share this post
---