WHAT'S BEEN HAPPENING AT PRESTIGE ...?
Monday November 4, 2013 by Marietjie Snyman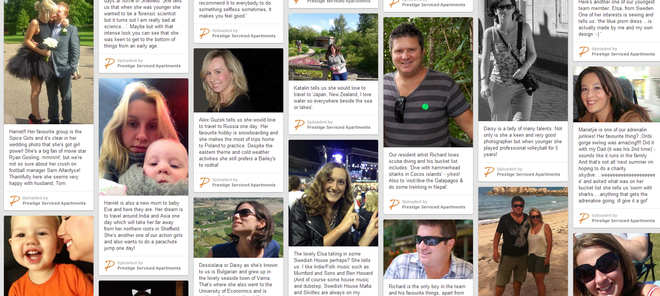 We're sure that you're all very interested in Prestiges' social life and what we've been up to in the past month so we've decided to share our key events with you.....
Who`s who…and who has been to visit us?
Kim and Agnes from Go Native came to see us we had a good old catch up and being the little piglets we are, enjoyed  the yummy cookies they brought along! We were also very spoilt by Lynn from Metropolitan Apartments London by COMO when she came to visit as not only did she bring us fresh muffins, but we also enjoyed freshly made smoothies and received a little goodie bag each! Lynn you're welcome back anytime!
Alex G, Alex W and Marietjie cleared time in their busy diaries to meet Marlin's lovely Lidia for a long lunch. Being long overdue made it all the more enjoyable!  As promised a special "Thank you" to Lidia for always reading our newsletter! (Oh, and the chocs...they were ridiculously delicious!)
The Max girls also popped in to see us and as always it was good to see Lucy and Hannah.
Round, round we get around…
We attended a show a show hosted by Monarch House in Kensington in one of their very spacious 3 bedroom apartments. Read all about the event here...
Another great night out for us was visiting West Street Apartments in the West End. We were very well taken care of by the Clarendon team. More about the night here...
We also popped in to have a look around at Astons Apartments in South Kensington - which proved to be a really great option for Budget travel! They offer single to quad studios. Have a look at our photos here...
PHEW - we've been busy.....
How to stay in touch:
Tweet w/ us, We tweet back!
Like us on Facebook
Pin us on Pinterest
Follow us on Instagram
Recommend us on Linkedin
---
Share this post
---