#PASTRAVELTIP – ALWAYS MAKE SURE YOU GET ON THE RIGHT TRAIN!
Tuesday December 17, 2013 by Marietjie Snyman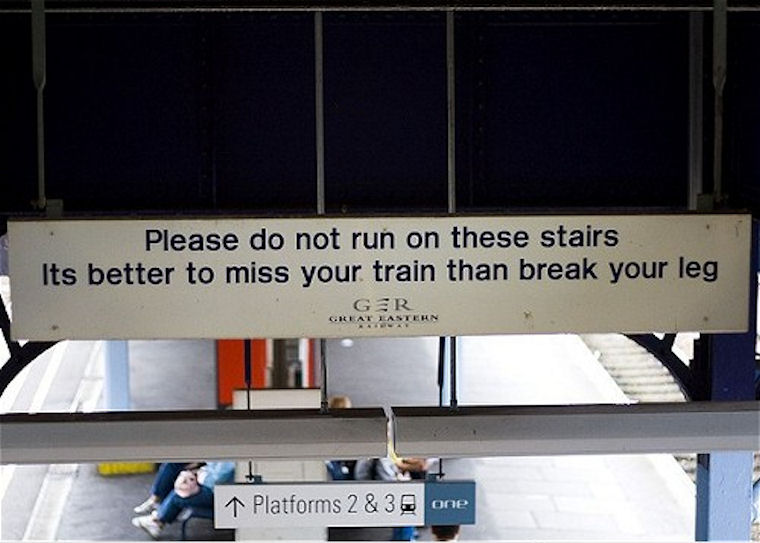 Part2...
Time to get excited for my weekend away in Derby…YAY!
So I arrived at York station with what I thought was plenty of time. I'm normally the annoying traveller that arrives 2 hours early and I'm also usually the one repeatedly checking passports and tickets, so thought everything was in hand.
Uh, not this time!
So I'm waiting for my train to be announced…when I notice that my train ticket says 13:34 departure. In my frazzled brain I'd thought that it was 13:47. I revisit the board, review the tickets, and feel total panic set in as I realise its 13:31.  Quickly scanning the board I see that the train leaving at 13:34 is on platform 3. "Where the hell is platform 3?!" I start running towards it. As I get there I can see that the train is already packed and in pure panic…I jump on. The doors close.
Phew, ha ha, yes, I made it!
We're pulling out the station and so I can finally catch my breath! Relaxing now, I think to myself: "ok, must go find seat". I knew that I'd reserved a seat cause that's how I roll…top chick! Yes, its all coming together!
Just then however, I hear a bell sound and an announcement is made: This is the train for Manchester Airport stopping at…
To be honest I didn't even hear the rest of the sentence, as at this point a wave of pure sickness washed over me.
I then notice this train is packed full of people with suitcases and without stating the obvious – is going to Manchester Airport! EPIC FAIL!! Uuurghhhh!
Feelings of panic and phrases I can't repeat in this family friendly blog go through my head! 
Deep breaths! What to do?…I pull out my phone and start checking connecting trains (from the very handy Trainline.com app – which gets a big thumbs up from me by the way) from the next stop to Derby. The next stop in this case being Leeds. Being out in the beautiful countryside my 3G wasn't exactly thriving but eventually I could connect and managed to confirm that it was indeed possible to get a connecting train from Leeds to Derby. And that perfect connection leaves…10 minutes after I arrive in Leeds.
Just keep calm.
Eventually, after what felt like a lifetime, I arrive in Leeds. It's Friday afternoon and the chaos of people not being able to travel the day before still continues…crowded platforms as far as the eye can see.
Happy thoughts! 
I run to the nearest train board. I think I need to be on the train to Penzance going to Cornwall…I think! I then asked a lovely train man for help and he pointed me to the correct platform. I find myself running (a very unusual feeling – people do this for fun?) and my poor little carry-on bag is struggling to keep up, however I manage to get to the platform with a couple of minutes to spare – PHEW!!!
Something to mention at this point (which I'm not proud of), but noticing the platform filling up quite quickly, I do remember thinking to myself: I am getting on this train!!!
Oh, and without sounding too dramatic…did I mention that they then squeezed in a platform change at the last minute? At which point I felt like saying: "Right, point me in the direction of the nearest Freehouse cause I'm outta here!"
But…just 5 minutes later…and…I'm on the train and on my way to Derby! 
Now that I have a plan I quickly notify Carl from Birchover Hotel Apartments that I might be an hour or so late...
Sit back & breathe.
#BIGNEWS Marietjie finally arrives in Derby…Part 3 to follow!
Follow me on Twitter @MarietjiePAS
---
Share this post
---