DAY-TRIPPING TO YORK
Monday December 16, 2013 by Marietjie Snyman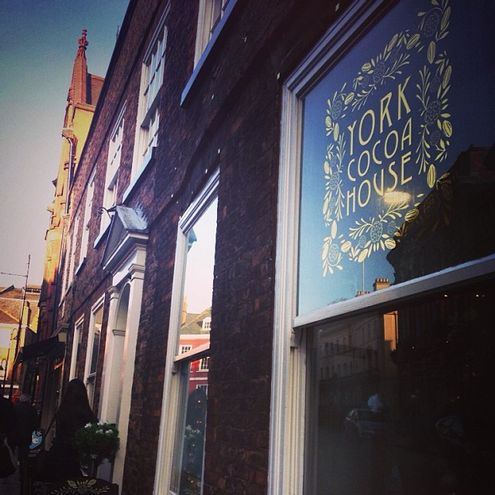 Part1....
With York looming in the morning it was off to the Globe Apartments Xmas party! Even with tunes, wine and other temptations however, Elsa and I still managed to leave at a reasonable hour…
So anyway, my alarm goes off, yawn…and…it's still dark!! I check my scheduled train online (due to the previous days storms resulting in many cancelled trains I had to be sure before setting off for Kings Cross). And yup…my train has been cancelled. Very tempted  to get back into bed at this point…however a quick call to National Rail reassured me that I could get the next train leaving 10 minutes later – Result!!
I arrived at the station with plenty of time to spare, and so Starbucks and naughty ham & cheese croissant in hand, I waited for my platform to be announced.
So, finally on the train to Edinburgh (first stop York ), but with no napping in prospect as I didn't want to wake up in Edinburgh however tempting that may have been (one of my fave cities!)
Fortunately, in no time at all we arrive in York. And what a beautiful city it is…the City of Chocolate don't you know.
My first appointment is with Chris & the team from CityLetsYork. It was lovely to meet them and talk shop over a much needed coffee. In fact, we got so carried away chatting I suddenly realised that I needed to run off to the next appointment! Chris was kind enough to suggest meeting up later to show me their apartments – more about that later!
So with that I rushed off to meet Heather from The Lawrance and we too proceeded to have a good old chat! YES, I'm a talker if you haven't already noticed by now! All this over a juice in the café conveniently located in their building. Heather then offered to show me her studio, 1, 2 and 3 bed serviced apartment suites…what red blooded girl could refuse an offer like that?
WOWEE! These were definitely Luxury serviced apartments, coming with air conditioning and parking and even allowing pets. Just perfect for a romantic weekend away or a business trip. The apartments have been done in a contemporary style and I loved the furniture and colours used throughout – very much to my taste! Very classy, a bit like myself, I thought. On the way there I also passed a plethora of bars, restaurants and shops and with the picturesque historic city centre just a 10 minute walk away across the River Ouse it was all very impressive!
After a quick call to Chris we agreed to meet on the bridge over the Ouse, and whilst waiting I became totally lost in thought. York is so pretty! Chris proceeded to show me two apartment buildings, the first of which was Centurion Square. We looked at the 1 & 2 bed apartments, both options offering spacious living areas and everything you would need to have a comfortable stay. The apartments had a homely feel and were very centrally located with secure access. I also thought that the guests' communal area at the back of the building looked very well looked after and so peaceful!
Now just let me start off by saying that I'm a typical girl. I like NEW & SHINY things! So when we arrived at the much older Micklegate Apartments building, I was a tad worried. What a surprise once inside however! The apartment we saw had so much character (exposed ceiling beams which I'm not normally a big fan of but it worked). I could just see myself sitting in the large window with a cup of tea (read LARGE glass of wine), watching the world go by!
Chris then offered to play tour guide and take me to the best Chocolate shop in York. Well! Walking through the city centre we happened to pass the Christmas markets…and ladies, the shopping looks really good! Being a sucker for pretty buidlings and cobbled streets I'll verydefinitely be going back.
Rushing back to the station (I always seem to be in a rush don't I?), I had just enough time to grabyet another coffee...Time to start getting excited for Part 2– my weekend away in Derby!
#PASTraveltip – Always make sure you get on the right train! Part 2 to follow…
Follow me on Twitter @MarietjiePAS
Part2...#PASTravelTip – Always make sure you get on the right train!
---
Share this post
---