WE'RE SURE THAT YOU'RE ALL VERY INTERESTED IN PRESTIGES' SOCIAL LIFE...
Wednesday December 4, 2013 by Marietjie Snyman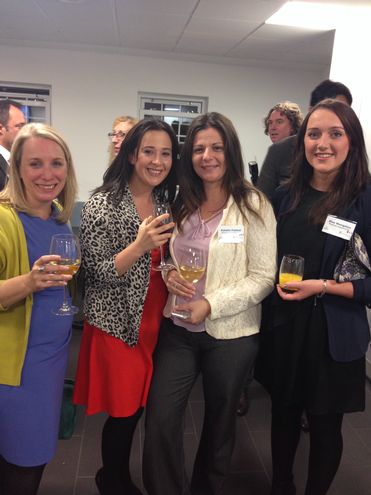 Our November update!
Our favourite Scots came to visit us and brought us some very yummy  goodies. It was lovely to see Craig and Debra from The Spires and we had a good old chat about the industry and caught up on all the news! We're hoping to go and visit them soon up in sunny Aberdeen (they said it was always sunny?).
Helen and Paul from Cheval Residences also popped in to see us bringing with them some delicious baked treats! They got the PAS team very excited about the Cheval Three Quays opening next year – we of course hinted for a free stay (fingers crossed!). We also managed a quick pic with them – Take a peek here!
And we get around too…
After Lynn from Metropolitan Apartments by COMO came to visit us last month we felt it was only fair to return the favour. Elsa and Marietjie went along for a show around and had a lovely time having tea (yeah, right) in the MET BAR: read all about their visit here.
We sent Alex W to investigate the goings-on at the newly refurbished Fraser Suites Queensgate and after reading her blog post the rest of us PAS girls need to go and view it for ourselves. They sound absolutely lovely!
The GN Team invited us to have a nose around two of our fave Go Native properties – which we of course couldn't decline…Lees Place in Mayfair & Sussex Gardens in Paddington were well worth it. Here are our thoughts…
We'd like to welcome the lovely Sarah too and when Marietjie went along to view her newbie apartments at Horseshoe Court & Lambs Passage they got a big thumbs up from her.
It was equally lovely to meet  Chris & Ross from Refresh Accommodation and show them our new apartments at 48 Bishopsgate. Please just contact one of the PAS  team to arrange viewings as we'd love to show you the apartments and catch up over a coffee!
Like most of you we made sure to visit the World Travel Market and had lots of fun (and even did some work) there – Around the world in 4 hours an article about our experiences by our super-Swede Elsa is a great read!
Another memorable night was had at the SABA London do hosted by Silverdoor! It was good to see everyone, have a couple of refreshing mint teas, and catch up with all the goss! Here we are with those teas!
As many of you may know we also took part in the Re:locate Magazine Key to Freedom Charity Project and so we excitedly attended the Charity Networking Party to see the well travelled scarves being auctioned off. 
...and we went ice skating! ...with some being braver than others…See our photos and read all about it!
And so last but definitely not least…A very special goodbye to Kylie from The Apartment Service. The Very Best of Luck with your travels back home! We've all really enjoyed working with you and thank you for coming to say goodbye.
---
Share this post
---