SKATING ON THIN ICE!?
Monday December 2, 2013 by Harriet Hickey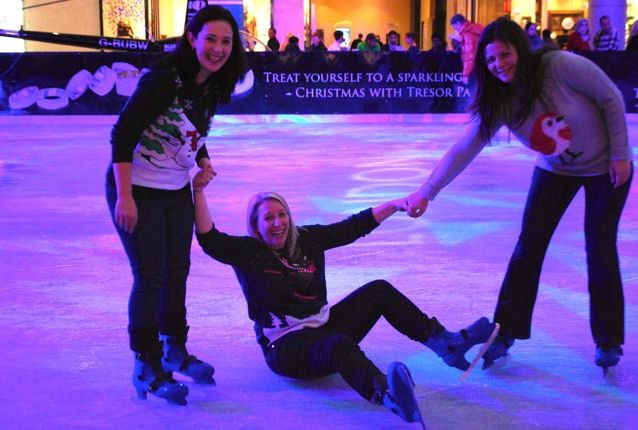 After waiting for what seemed like 100 years for the day to come, it finally arrived!
No, not Christmas silly!
It was finally the time for the Prestige Team (or #PASTeam as we are known in the Twittersphere@prestigeapts), to don our Christmas jumpers and skip across to Westfield's mighty shopping centre and their fabulous ice skating rink to put on a pair of very dangerous looking skates.
My mother always said no to ice skating telling me that I would slice my fingers off because I'm too clumsy for all of that elegant whizzing around on the ice. A bit of advice that I'm exceedingly grateful for as it's stuck with me! It was therefore, myself along with Elsa and Daisy (not sure what their excuses were!) who chickened out and decided instead to 'gracefully spectate'. Who were we kidding? We knew full well our intentions were to have a good laugh at the expense of those foolish enough (I.e. brave enough) to give it a go. Sales Manager Alex Guzek had brought her little boy Hugo along however we were told that he was too young so unfortunately Alex and Hugo also became spectators! Aaargh!
Arriving nice and early, we all had the opportunity to take on some yummy power drinks (Christmas coffee in red cups) to get us in the mood. Once we'd devoured our drinks Elsa, Daisy and I  retired to the sidelines in order to get the best viewing/laughing spots. Alex Wood, Marietjie and Kata ( aka the brave ones), messed around getting their skates on for a full 10 minutes before appearing from the changing rooms looking a tad apprehensive (read: seriously scared).
It turns out that they needn't have been that scared as the majority of the other people on the ice were hardly in the Torvill and Dean category either! Boss Alex Wood was the first to slip over on her hiney, much to the delight of her giggling employees! Elsa, who was documenting it all on her flash camera, found this especially amusing!
To be fair, Elsa does have a quirky sense of humour. She's Swedish you know.
It turns out that our lovely and usually quiet Hungarian Kata is quite the whizz at skating, much to the dismay of Alex Wood who just had to give her a playful little shove! OK, admittedly, onceMarietjie and Alex got going they weren't all that bad either. Although at one point they all got a little overconfident and all nearly fell over at the same time. H-I-L-A-R-I-O-U-S!
My name's Harriet. I'm from Sheffield. I also have an unusual sense of humour.
After a good amount of time on the rink they all started complaining about their boots (wusses!) and how much their legs were beginning to ache (yes really! Shocking effort.), and so they decided that enough was enough and came off. Once the girls had finally managed to prise those boots off of their feet we all hobbled off into the darkness and said good night!

Skating at Westfield is a great thing to do if you've got a spare hour or so amidst all the Christmas shopping craziness. Just remember though, that the minimum age is 4 years old, so you possibly wouldn't want to turn up with your little one unless there's a handy significant other lying around! You do get a really lovely Christmas-ey vibe from the surroundings and we can happily report that the staff were extra helpful, so if you are struggling somewhat, they will come to your rescue and help you. Which is always welcome (particularly if there are any hunks lurking around)! If Westfield is a little out of your way then there are plenty of other temporary, seasonal ice rinks around London such as Skate at Somerset House or the rink at the National History Museum where you could tie in the latest exhibition and a peek at those pesky dinosaurs with a whizz around the ice.
See our Pinterest board....
Follow me on twitter @HarrietPrestige 
---
Share this post
---